Skip to end of metadata
Go to start of metadata
HRPP Accreditation
Reaccreditation 2021 - 2022
NIH Federalwide Assurance
FWA #: 00005897
Expires: 07/16/2023
IORG #: 00010
---
Reaccreditation 2021 - 2022
Reaccreditation of the NIH Intramural Research Program Human Research- August OHSRP Education Session
Status of AAHRPP Reaccreditation - OHSRP June 2021
AAHRPP Reaccreditation 2021-2022 Presentation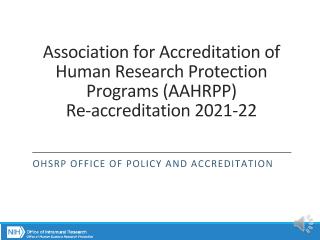 Reaccreditation Calendar

Review this calendar to follow accreditation activities, such as key deadlines, trainings and site visit events.



Accreditation News

The AAHRPP virtual Site Visit will take place Tuesday November 30th through Thursday December 2, 2021. We expect to receive the agenda for the site visit the week of October 18th. Following receipt of the agenda, interviewees will be notified and prepared for their site visit interviews. For more information about what to expect, review the videocast for the "Reaccreditation of the NIH Intramural Research Program Human Research- August OHSRP Education Session." For questions, contact Heather Bridge (bridgeh@od.nih.gov) or Chris Witwer (chris.witwer@nih.gov).

The Step 1 Application has been submitted to AAHRPP. Thanks to everyone who provided us with data and support during this process! Now we are waiting on AAHRPP's review of our policies and materials. During this review AAHRPP may ask for minor changes to our policies or procedures. We will keep you abreast of these changes if they will impact study teams. Once AAHRPP is satisfied that our policies and procedures meet the AAHRPP accreditation standards, we will be invited to submit a Step 2 Application later this year. The site visit will take place approximately 3 months after the Step 2 application is accepted by AAHRPP. We will begin prepping NIH staff selected by AAHRPP to be interviewed during this time period. If you are selected, we hope you will be honored to represent the NIHIRP and the great work it does.

By: Heather Bridge

We continue to update AAHRPP (the accrediting body for the Human Research Protection Program) on the progress of the consolidation of the IRBs and streamlining of IRB operations. Our status last report in November showed significant progress over the past year since Jonathan Green and Tiffany Gommel joined OHSRP and stood up IRBO.  We have more to do, but we are confident the accrediting body will see that we are making great strides towards our goal of a centralized IRB and streamlined operations. 

We are preparing for the AAHRPP Annual Report, which is due in March 2020. As with previous years, we collect fiscal year data for the annual reports. We kicked off data collection in October by requesting IC QAQI data. The CC Office of Research Support and Compliance (ORSC) assists OHSRP with QAQI data collection and assessment. This year, working with OHSRP, ORSC developed a new QAQI survey to collect the needed QAQI data for AAHRPP. In addition, and they will assist us with the assessment of QAQI activities in the ICs. The remainder of the AAHRPP data collection will start in January 2020 from the ICs and from IRBO. Due to the consolidation of the IRBs that was completed in December 2019, we hope to collect IRB data from NIH iRIS. However, because this is a transitional year, we may still need some legacy IRB data from the IC-based IRB datasets, but we are still assessing our data sources. We anticipate that IRB data for these types of assessments will become far easier over time since we have now have a centralized IRB software system and centralized operations.
Overview
Content Tools
ThemeBuilder