Skip to end of metadata
Go to start of metadata
2020

05
Letter from the Director - 2020 Q3
September 16th was my 2-year anniversary of coming to the NIH. When I reflect on what we have accomplished together during these past 2 years, it is no wonder that sometimes I feel tired….as I am sure you do also. The road has been and still is bumpy, although I think the potholes are less deep and not as frequent. There is no doubt the pandemic has adversely impacted the ability of our office to consolidate and streamline its operations and develop the critical team structures that are needed to function optimally. Despite this, we continue to make progress and are in every way I can think of a totally respectable IRB, staffed by dedicated, committed professionals.
Recently, the leadership of OHSRP came together and developed a vision statement.
We will promote the safe and ethical conduct of human subjects research by
providing timely, consistent and compliant reviews
educating our community
communicating effectively and responsively
collaborating with stakeholders
and thus, will be recognized as national leaders in human subjects protections.
We think this captures well what we believe it means to be the best IRB. We evaluate every decision we make against this vision to assure it is in alignment.
We have begun the process of investigating whether we should replace our current electronic IRB submission system, iRIS, with another system. Having a user friendly, streamlined IRB submission system aligns well with our vision by facilitating timely, consistent and compliant reviews. Believe me, we understand the impact of even thinking about such a change, and it is not something we are taking lightly. There are several reasons that we are considering this change. First, user satisfaction across all user groups for iRIS is very low. When we surveyed the NIH community, 70%of researchers, 62%of IRB members and 83%of IRB staff disagreed or strongly disagreed with the statement "Overall I am very satisfied with the iRIS system". Second, the workflow processes within the system are such that they significantly hinder our review process. In addition, the system is designed in a way that makes it very difficult to accurately document important regulatory determinations. For these and several other reasons, we feel it is important to at least explore if there is a system that can better serve all of our needs. Rest assured, we will engage and collaborate with all stakeholders throughout this process. We will be presenting a session via videocast on October 6th to discuss this project in greater detail. Please be sure to tune into this to learn more.
The NIH Intramural Research Program is now a signatory to the SMART IRB Master Reliance Agreement. We are now part of a collaborative of 800 institutions nationwide that have signed the agreement. What this means for our researchers is that when we are participating in multi-site research that uses a single IRB, if our partners are also SMART signatories, we do not need to negotiate a separate reliance agreement. The SMART agreement serves as the reliance agreement. While this does not remove all the barriers to single IRB review, our hope is that it will significantly reduce burden and streamline the process. Our heartfelt thanks to all who worked so hard to get the agreement to a place where NIH could sign.
Our key metrics for the last period are shown below.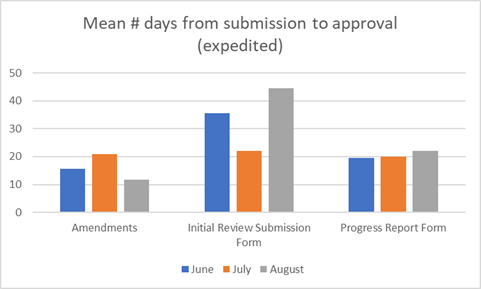 Overview
Content Tools
ThemeBuilder
Activity